Have you all seen the site:
After browsing through responses to Courtney's over or under survey, I visited Charmin's website to see if they still had their survey up.  On the site was a link to sitorsquat.com, originally a blog that blew up into something bigger after about a year.  This site links you to bathrooms wherever you are located, and is now downloadable as an app on your favorite portable device (IPhone for me).  It also contains information as to whether or not the toilets are sit or squat material.
I don't know about you, but when I am in a public bathroom, my mama taught me to paper the seat. That was right up there along with the warnings about strangers in bathrooms, washing your hands, and carefully exiting the bathroom.  I do know that I am thrilled to be able to get an app that will help find public bathrooms in proximity, especially thinking about the long road trip coming up soon.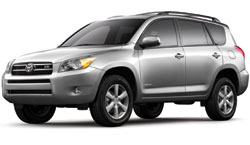 I made the reservation for our rental vehicle this morning. After searching through numerous car rental companies, I finally landed on Hertz, the one that offers great AAA discounts.  I am soooo glad we are now AAA members, cause it has been extremely useful and has already saved us a great deal of money.  I highly recommend AAA to anyone at this point.  Getting an intermediate SUV was a 20 dollar upgrade for the whole trip. I think it is definitely worth it!
I've never driven an SUV before, but I figure I've got about a 1,000 miles of open road between here and Colorado to get comfortable, before I have to drive in the mountains.  I'm definitely a driver so this shouldn't be a problem.
Once, long ago in 2004, I did a short stint as a chauffeur to earn money so I could begin grad school for education. I didn't want to drive a stretch limo.  Believe me, it isn't even the size.  If you were to hear some of the stuff that goes on in a stretch limo, I doubt you'd want to drive one either.  Even in a sedan, I had some hairy experiences.  I'm thinking that God had this angel sitting between me and the people in the back the whole time.
This was during my "fearless" years. I was ruminating about that time in my life with Jenn the other day. My instincts took a backseat as I tried to prove something, even though I was never quite sure what it was I was trying to prove.
This was all brought into the forefront of my memory as I was traveling home from Jenn's a week and a half ago. I decided to use my IPhone's Google Maps capabilities, and get home via a shortcut. I hopped on a bus from Western Avenue, and was planning to get on the Metra at Western and stop off near my apartment, a block or so away from the train.
Mistake #1: my IPhone dies. The old Christy says "what an adventure", "you still remember how to get there, no big deal!"  The wiser, 33-year-old Christy says, "you have a camera around your neck (even though we got a great deal, it isn't as though it is covered by insurance)", "you have no idea where this stop really is", "what the hell were you thinking?"
Mistake #2: I get off the bus between two train trestles, a 3 block distance from each other. I still had my camera around my neck, because I had been convinced that I would be dropped off within a stone's throw of a beautifully maintained and staffed Metra station.
I walked the block and a half to the trestle to the south.  It was the "L" Stop for the 54th Street train, an "L" train I used to take just about every day when I was in my first year at UIC.  I asked for directions from a CTA worker inside, but he had no clue about where the Metra was.  I could see another trestle further south, so I began walking.
All around me was industrialized land.  Except for the occasional passerby, it was nearly empty.  I began to notice that I was the only one even approaching my racial background in the area.  From the looks I was being given, I assume that I wasn't the only one noticing that.  A long time ago, I would have put on a false bravado for the sake of being open-minded.  I was just about the most open-minded person you could want to know, to the extreme of putting myself into scary situations, just so I could prove that I was open-minded.
There comes a point, however, when you have to be aware of where you are and what you look like.  I may offend when I say this, but, no matter what race you are, if you step foot into an area where there is higher crime and poverty rate, and you do not LOOK like those around you, I personally feel you will receive more attention than you will when you do look like those around you.  That isn't to say that people of the same race can't experience uninvited attention and criminal acts against them.
I'm a martial artist.  I can look like I know how to take care of myself.  I do not look like a victim, but I still have to be careful not to place myself in these insane situations.
By this time, I realized the second trestle was not the Metra and headed back in the direction of the "L".  I asked directions in a gas station and hurriedly hustled my camera into the teacher bag that I was carrying.  The gas station attendant was able to direct me to the Metra, a block and a half north of the "L".  I'd been going in the wrong direction.
Mistake #3: I walk up to the bridge that the Metra is on top of, and up the stairs in the middle of the bridge. Not only did I discover that I had walked up the wrong entrance, but I also realized that I was standing alone on a completely isolated train platform.
When I walked down and then back up around the other side, I realized that I didn't even have enough cash on me to take the Metra.  I'd forgotten that they don't take plastic.  I sighed and loped back down the stairs, running through the tunnel, avoiding the car of 20-something guys making catcalls and comments.
I took the CTA all the way home.  I was exhausted, but very glad to be safe.  I feel like my perspective has shifted somewhat now that I'm married and have someone else to think about.
Have you had a moment of grown-up realization?  What was it?